2022 was one of our most successful Jingle Bell Runs ever!
Active Communities is celebrating after holding one of its biggest ever Jingle Bell Runs.
This year was the 19th Jingle Bell Run to be held in Barshaw Park, Paisley, and saw more than 540 runners taking part across the 3k and 1k races. That's up on the 450 who came along in 2021.
Once again everyone who took part excelled with their festive cheer with people spotted wearing Santa, Elf, Grinch, Snowman and Gingerbread costumes. The park rang out with the sound of jingle bells pinned to people's trainers and coats and young and old all got into the spirit of the event wearing their best festive gear.
Cheryl Thomas, Programmes Development Manager for Active Communities, said: "We are delighted with the fantastic turnout for our 19th Jingle Bell Run. We had good weather and a brilliant atmosphere on the day.
"We'd like to say a massive thank you to everyone who makes the Jingle Bell Run happen.
"We had a great team of more than 20 volunteers who gave up their time to make sure the event ran smoothly. We'd also like to thank Erskine Arts, Big Top Circus, dancers, our facepainter, the Friends of Barshaw Park and Paisley Society of Model engineers for the free train rides for all our runners.
"We're a small team at the charity and we couldn't put on an event of this size without everyone pitching in to help. We'd also like to thank Gill Mackay who helps so much with all the organising.
"Most of all we'd like to thank all our Jingle Bell runners! We hope you all enjoyed the day as much as we did."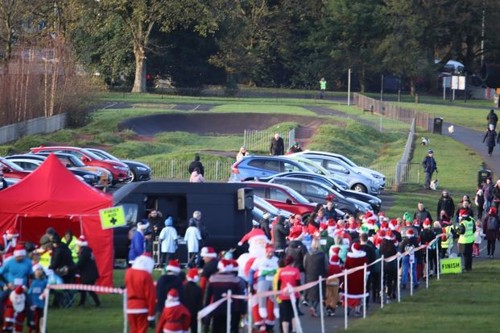 She added: "We'll be launching our new What's On guide in January and will have lots of active, fun classes and events.
"Keep an eye on our website and follow us on social media for all the latest on what's happening. There's bound to be something there for you to take part in!
"And we're already looking forward to seeing lots of you back again next year for our 20th anniversary event!"
The 3k race was won by 15-year-old Amy Teasdale who runs for Kilbarchan in a time of 11 minutes 21 seconds. Amy was also the first female finisher last year.
Second place and first male finisher was Maciej "Magic" Kolodziej in a time of 12 minutes 29 seconds.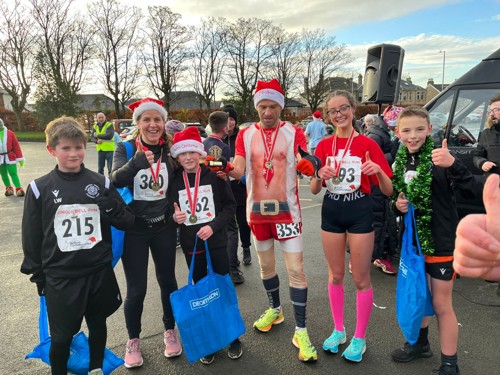 The 1K was won by Alejandro Dorta Scott in a time of 3 minutes 38 seconds. His race number was 202.
Second place and first female finisher was Meiyee McMillan in a time of 4.18. Her race number was 425.
The first three female finishers for the 1K were all from the same family, mum and daughters McMillan!
Second female was the mum in time of 4.19 and the third female was the other daughter in a time of 4.41. Race number 426.