Hearty Lives
Hearty Lives is our ambitious and innovative partnership project which delivers a peer-led approach to promoting mental health and wellbeing across all Renfrewshire high schools.
Funded by Renfrewshire Council's 'Tackling Poverty in Renfrewshire' programme it is a unique partnership which promotes mental health and wellbeing for young people in Renfrewshire and aims to tackle poverty through a peer education approach, focused on tackling inequalities and improving health.
Hearty Lives is driven by the core values of Active Communities whose mission is to empower local people by inspiring, supporting and enabling them to improve their health and wellbeing. Hearty Lives teachers are following this same mission for the pupils in their school.
Key issues being addressed by the project included bullying, exam stress, worry, anxiety, self-care, resilience and promoting positive mental health. Schools are linking their Hearty Lives projects to: Saltire Awards, SQA Wellbeing, SQA Mental Health and Wellbeing, Green Flag Awards, Fairtrade Awards and Duke of Edinburgh Awards.
The project has a community arm which is an extension of the schools work and is delivered by Active Communities in partnership with CREATE Paisley at Station Seven in Johnstone through a weekly Youth Drop In. The youth health project gives young people the opportunity to further explore youth health issues in an informal setting and delivers workshops on current health issues such as: coercive control, body image and self-esteem, social media and mental health, smoking, healthy eating, drugs and alcohol.
The community project also tackles wider social issues and is increasingly addressing basic needs of young people such as providing healthy food, toiletries, sanitary products, access to free condoms and clothing.
"Through my involvement in Hearty Lives I have improved my own mental health and hopefully others in the school. Due to the projects within Hearty Lives I have also gained knowledge on how to assist someone who needs help, knowing effective techniques to improve my own mental health as well as being able to support others through social media," S5 pupil, Renfrew High
"Hearty lives has helped with my mental health being around people who support me and being with my friend," S3 pupil, Gleniffer High
"I have thoroughly enjoyed being a part of Hearty Lives this year. I have worked with people I would not have had the chance to if I was not part of this group and been part of something positive in my school. Overall, I've loved being involved in hearty lives throughout the years as it's been such a good opportunity and has helped me grow as an individual," Pupil, St Andrews Academy
"For the Hearty Lives my team and I created a PowerPoint presentation about mental health and resilience. We presented our presentation to fourth year classes. They took part in the quiz and gave answers that raised lots of discussion points. This experience helped me to build my confidence and communication skills which will help me later in life. I have enjoyed learning about mental health and some of the simple ways I can help others who are struggling." S6 pupil, Trinity High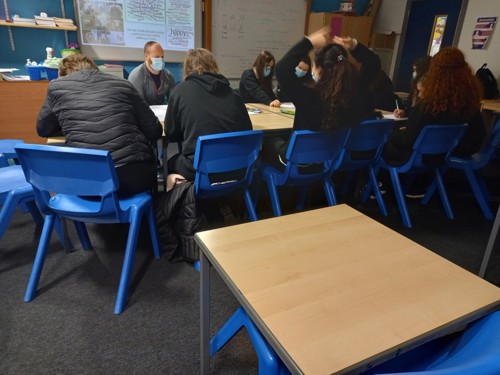 Case study: St Andrew's Academy, Paisley
This year although we could not go into classes to educate our peers, we were able to make a PowerPoint for Mental health awareness day. This allowed us to take part in educating all pupils as we made the resource for all teachers of all year groups to deliver as a one off lesson. The lesson aimed to raise the profile of mental health awareness for all the pupils in the school, which was fun and interesting to do. We had to think about how to make a lesson that would send a positive message that was suitable for all age groups from S1 – S6 and this allowed us to work in a (socially distanced) team
Case Study: Gryffe High School, Houston
We were both voted in as Wellbeing leads. This was exciting if a little daunting at the same time. We immediately made the decision that we would use the Hearty Lives funding to support any Wellbeing events that we ran. We knew that the immediate concern would be how Covid has impacted on our peers and community so wanted to make sure that mental health was a running theme during all, if not almost all months.
We organised lessons to be delivered during PSE/PDA classes to all year groups and ensured that the materials were differentiated depending on the year group they were delivered to. We ran events during National Antibullying week and World Kindness Day. These events were great as it allowed us to use our creativity and think of unique ways to capture pupils interest in and understanding of mental health.
We also met lots to complete our application for funding via the Celebrating Renfrewshire Funding project. This involved a written application, along with filming a one minute video. The team worked well together and thankfully we were successful. Due to the second round of remote learning we did not get to run the project; however, the funds are there for next year.
Hearing that we were successful in achieving Silver status for LGBT Youth Scotland Charter was another highlight for us. Our school has worked hard over the last few years promoting rights for all and recognising the impact that exclusion and inequality has on certain groups of people. In the last two years we have ensured that all areas of mental health have directly linked to protected groups, especially the LGBT community so receiving this meant a lot to us.
Although there were lots of initiatives and mentoring that occurred, one area we are particularly proud of was beginning our 'Like Minds' young adult mental health group. This group is linked with a mental health adults' group that has been running in the community for the past two years. We enjoyed hearing all about how the group ran and working out how we could implement some of that for our school group. We attended weekly training sessions with the facilitators Suzie and Frankie and began meeting groups of junior pupils but again, lockdown stopped the project moving any further.
This will be continued when school starts again after summer. We have really enjoyed the roles this year but are sad that we did not get to see many projects through to the end.
Case study: Renfrew High, Renfrew
Through my involvement in Hearty Lives I have gained a better understanding of what mental health really is and how mental health affects everyone.
This past year hasn't been easy, to say the least but no matter happens or has happened I always have other people to turn to, throughout the pandemic l constantly had an amazing team of people around me on social media and I knew I could turn to any of them because they understood mental health and knew how to be supportive thanks to our hearty lives team.
This year has been especially difficult for everyone, but we tried to encourage everyone to look after their mental health and speak to one of our team if they were struggling and we made the resources available for people to do so.
We spent lots of time looking at how we can promote mental health within our school and teaching others the importance of mental health, we also spent a lot of time looking at different techniques and exercises we can teach others to help them focus on their mental health and helping them learn how to be as positive as possible even in bad situations, and I even have to use some of these techniques on a daily basis.